Testimonials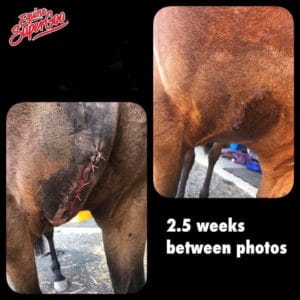 "Best product ever !!!" Debbie Foster  (Australia)
"This stuff is amazing!" Tamar Terry
"Brilliant stuff" Naomi Fletcher
" I love this stuff" Angela Cooper
"Brilliant product……the entire range. My First Aid Kit contains a tub of each product. 
Thanks Elizabeth J Cieslik for Equine Super Goo"
Testimonial from Jonelle Price- 
 "Genuinely really impressed with this product, well worth having in your grooming box" J Price winner of Badminton Horse Trials and two time Olympian 
"The best healing cream you will ever use
"
"Supergoo saved me from having to pull out of a once in a lifetime adventure!" Sophie Cartmer
"This is 
THE BEST stuff 
on the market. 
"Honestly rate the super goo so much! One application practically  rid the mud fever on my mare! And healed her leg wound!!" Krystie Marriott
"…..absolutely the best products on the market 
" Hayley J Mills
"I think your products are great."
Rowena Black
Bella's Story
"Bella injured herself on her eyebrow and on vets advice we didn't stitch it.
Now that the swelling has gone down we are using Equine Super Goo to help with not just the healing minor wounds but to help reduce the likelihood of any scarring. Bella here has a lot of patches over her body where she is losing hair due to sweat itch and after two applications it is already growing back little stubbles of hair. I have used this on old stubborn scars and seen it reduce them too. It's great for literally anything you can think of.
If your horse or pony has minor aches and pains it's great to massage into their muscles too. Highly recommend everyone to have this on hand." Keiasha Mcghie
Hello, I'm Lucy, head groom for Tim and Jonelle Price in the Uk. Just wanted to give you some feedback on the Super Goo. It's really good stuff and we have used it for all sorts. ….and mud fever on the heels and it's been amazing. The scabs and small wounds have healed really quickly. Also one of my Badminton horses managed to rub all the hair and some skin off his bum whilst travelling and we have been putting the super goo on and it's made a big difference already. It's kept it really moisturised and the hair is coming back already so hopefully in time for Badminton Horse Trials in May it'll look much better! It really is good stuff, smells great and easy to use too!
"Thanks for introducing us to supergoo! We had a few more chances to use it now and been really pleased with it, Thanks" – J Price
OMG I love this stuff everyone should have a pot in their stable and one in the float. My horse scraped up her legs but after three weeks the minor sores have ninety percent healed AND hair growing back with no scar tissue visible.
Seriously, the best ointment on the market for mud fever. It is a pot of gold! So impressed with this product 10/10.
Tried 'Equine Super Goo' on Arnie's boot rub. It works a treat – and has dried it up nicely. Next day Arnie's rub is 100% gone – I was gobsmacked!! It gets slapped on everything now, cover rubs, scabby bits and especially awesome on mud fever!!
This Goo is worth every cent. Essential to have.
Hi there, I bought your product and I just wanted to say after trying so many different products I am happy to say this is the only one that has made any difference. I would definitely recommend it to anyone who asked!
"Hi Elizabeth, I just wanted to thank you for this amazing product it really is a super goo!! Our stallion had a little accident and I had just received your Goo so it was perfect to see how it went. Well I applied it twice a day for two days and it had came  right. Your product is the best!!!"
Some more before and after photos
Equine Super Goo Natural Insect Repellent Testimonials
We sent a box of Extra Strength Natural Insect Repellent to Western Queensland to Cowen Downs station, after the flood they were over taken by biting bugs. This is a message from them:
Elizabeth Of "Equine Super Goo" sent us Extra Strength Insect Repellent amazing pots of magic for our horses….. Amazingly generous, We applied it to them yesterday (I forgot to take photos sorry) & afterwards they stood in quiet contentment. Thank you Elizabeth, This is a magic cream that I can now solidly recommend….. Thank you from all of our beautiful beloved horses
The BEST fly repellent I've ever used! My welsh pony was getting attacked and had just given up trying to get rid of them, one application and they were gone for hours! Thank you so much.
This stuff is amazing, I only have to do it on super hot days.
Hi Elizabeth, The Extra Strength Insect Repellent Super Goo arrived today. Absolutely fantastic product. I have 5 very happy horses now. They went from stomping, tail swishing and agitated, to calm, relaxed and contented. It is so easy to apply too as they are not bothered by it. They actually seemed to quite enjoy the process. Thank you so much.
OMG peoples, this stuff is bloody amazing! We use it all the time now and NO flies. We had it on at a show this weekend and a lady enquired how come our horse did not seem bothered by the flies? This is the magic stuff! About to order more. Has lasted approximately 5 weeks but the flies are very bad as many of us are aware.
I apply this every morning to my five horses and I swear they are lining up now! Keeps them happy for hours!
Equine Super Goo Sunblock Testimonials
Hi Elizabeth, Just wanted to say (along with so many others) that your products are amazing! My boy now doesn't mind having his sun block on – he used to react just to me saying the word or seeing the tub, now is pretty relaxed and if he does put his head in the air it's only for a second, no tantrum's anymore. His nose has never been in better condition through a hot summer like we've had. It got rid of some scabs after just a couple of days of using it. The goo is amazing and I'm just about to order the insect repellent. Super happy with these products, thanks so much!
Awesome stuff! My pony usually hates sunblock and wipes it off. She's hasn't tried wiping this off yet.
I'll have to get a photo but I brought a pot of your sun block a week ago and I'm very impressed. I was using the usual zinc type blocks and it kept crusting up in her nose and looked awful now her nose is lovely clean and soft, I love it!
Hi Elizabeth thank you for the sunblock it smells amazing! I used it yesterday and the ponies let me willingly put it on which is a first!
Udder Super Goo Testimonials
Your product  is just the best cream I have ever used for my cows, I have used a whole pot on her highly highly recommend super goo topical cream.
Thank you for sending the Udder Goo out to us to try out. We have used the product on spring eczema on the cows udders as well as spilt teats and found that the udder goo worked a treat. It stuck to the teats and patches of eczema on and off the udder really well. Its good to be using something that is made right here in NZ as well.
Wow… Jason M who used your cream is blown away! He is a crazy busy farmer so hes asked me if you make in bulk as its the best he has ever used. So do you make 5..10k buckets as his herd is 230 plus. His words were bloody awesome stuff!
Have used the on my cows udders for chaffing. Helps them so much and the heifers are easier to deal with as they not sore. Some got to the point once cups were on they would lift their leg up and away from udder as they knew I would put the cream on next and enjoyed it .
We used it last year on a calf that had bad eczema on her back, cleared it up straight away.
Hi omg this stuff is amazing, I got the super goo and my dog was uncomfortable but within 2 days she is not scratching as much and it's healing.
"Just letting people know that I used the Canine Super Goo on my old dog who had minor skin problems. It was awesome! Within 2 days the fur was growing back, and I had tried many other products that didn't work. He is now completely over his problem which was there for a few months."
'We used it on our puppy who had a sore under her cast on her leg. When we took her back to the vet 5 days later they were amazed the whole thing had moisturised and looked great."