We have Sponsored/sponsoring:
Stable to Stirrup is a registered charitable trust located in Canterbury. We are a national standardbred rehomer affiliated with Harness Racing New Zealand. You can learn more about us here: www.stabletostirrup.org
Essentially we take retiring harness racing standardbreds and, where possible, retrain and rehome them. As at 31 March this year, Stable to Stirrup has successfully rehomed 115 horses through the trust and we are looking to continue these numbers in the coming years.
We are always in need of quality health care products to help the horses in our care, and it would be wonderful if Equine Supergoo would consider sponsoring us with some of your wonderful topical cream. In return we can promote your brand to new owners and through our social media channels, and we are more than happy to display advertising signage in our facility arena. I am happy to share charity information and answer any questions that you might have so please feel free to email or contact me on 022 035 8276.
Haylee McNoe
Trust Administrator
2023 Queensland Paint Horse Show
The Scone Horse Festival 2023 One Topical for each Champion of each of the 38 classes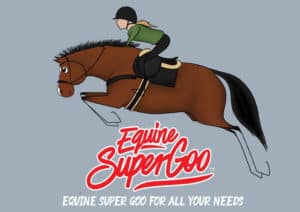 NZ Three Day Event 2023
Equifest 2022 1.30M Jump Class
Te Aroha Hack and Hunters Open Ribbon Day Sunday 4th September.
Pinto Show NZ
Waiuku Ribbon Day Oct 2022
Wairarapa Showjumping Group winter series 2022
4th Annual Baroque & Distinctive Breeds Queensland
Waiau Pa Pony Club
Kihikihi International Horse Trials 2022
Rodney Animal Rescue
Queensland All Welsh Show 2022
Young NSW Dressage Championships 2022
Sugar City Barrel Racing, Macky Queensland
Pony Club Show Jumping Champs Nov 2021
Taupo Christmas Classic Showjumping 2018, 2019, 2020
SPCA
Gore Pony Club
Extreme Cowboy Racing Association in NZ
Sugar City Barrel Racers Mackay Queensland
Off the Track Northern Territory
Northern Southland Pony Club Show
Child Cancer Fundraising Trek at Middlehurst Marlborough
Marshlands Pony Club Marlborough
Currabubula Pony Club West Tamworth NSW
North Queensland Equestrian Group
Cowboy Challenge Waikato
Mercury Bay Equestrian Academy
Mercury Bay Pony Club
Kaylee Hood Barrel Racing
L M Goodall Rehoming Horses
New England Quarter Horse Association Tamworth
Rodney District Districts Mininature Horse Club
Eventing Central Districts Horse Trials
Northland Show Hunter
Fire Victims in NSW Australia
Taupo Christmas Classic 2018/2019/2020
Roydvale Pony Club ODE
ESNZ Endurance National Championship
NZPCA Eventing Championships Cromwell
Eventing Central Districts Horse Trials
North Island Standardbred Association
Melbourne Equine Rescue Centre
EventStars Ltd
Awatere Pony Club
Blenheim Pony Club
Marshlands Pony Club
"THANK YOU so much for my wonderful 3rd place prize, " Equine SuperGoo" in the CU Novice 2.1.

The product looks amazing and was immediately added to my travelling equine first aid kit.

Thanks again for your sponsorship at the AMAZING 2023 Young Dressage Championships.  Your sponsorship it an integral part of what makes this competition so special. "

Kind regards

Simone Pye and Amberwood Smashing Lady