Description
EQUINE SUPER GOO'S LATEST PRODUCT – HOOF SPRAY IN A 750ml bottle  (NEW ZEALAND ONLY)
NO MORE SPILLAGE
Seedy toe? Thrush? Gunky frog? Cracks? Abscesses?
Testimonial:  "SUPER GOO STRIKES AGAIN!! Im so impressed with the Hoof spray ! Both my horses have compromised feet which i manage, and the hoof oil has put icing on cake. Had both boys between 8 and 10 yrs, finally i have something that is fit for purpose, Thank u from Percy and Zephyr" A Mckenzie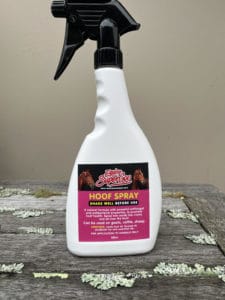 Equine Super Goo's Hoof Spray is formulated with bio-active natural ingredients that contain some of nature's most powerful cleaning, protective, disinfectant and antifungal properties. This horse hoof spray features an effective soothing combination of botanical extracts and essential oils and is convenient to use on hoof conditions that our horse's struggle with on a daily basis especially in New Zealand's winter. Regular use will maintain and promote hoof hygiene and help stimulate the natural processes of healthy hoof re-growth. Comes in an Easy, Convenient, Chemical-free spray 750ml bottle
Contains: Neem oil, Aloe Vera Juice, Tea Tree Leaf Extract, Essential oils of Oregano Leaf, Sweet Orange, lemon and eucalyptus oil and Stockholm tar. DIRECTIONS FOR USE:  Shake well before use. Clean and dry hoof thoroughly prior to each use.  Spray on the white line, sole and frog area of your horse's hooves and directly into cracks and holes . Hoof Spray is most popular as a quick and easy hoof maintenance tool.